Newsround Contest Prize is Signed GoF DVD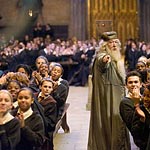 Mar 21, 2006
Uncategorized
CBBC Newsround has an online Harry Potter contest and First Prize is a copy of the Goblet of Fire DVD, autographed by Daniel Radcliffe, Rupert Grint and Emma Watson.The runner-up will receive "a bagful of GoF goodies." The contest is open until April 3. Check it out! (Note: The DVD is probably in PAL format, which means that it won't play on U.S. DVD players.)
UPDATE: Newsround's Lizo kindly commented here to say:
"The DVD is a Pal Region 2 copy. And the contest is only open to UK residents I'm afaid.

Slightly bizarrely, the signed cover is the US Region 1 version, as that was the only one they happened to have at the studios when I was doing the interviews."

But the actual DVD is a UK one.
Thanks, Lizo!