Possible J.K. Rowling Appearance at Book Awards; Confirmed Interview Airing on Channel 4 in Summer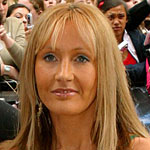 Mar 24, 2006
Uncategorized
UPDATE: CBBC Newsround has now confirmed that Jo will in fact be interviewed on the Richard & Judy program; broadcast date is still undecided but probably in either June or July.
Last month we told you that Harry Potter and the Half-Blood Prince had been nominated for the WHSmith Book of the Year at the British Book Awards. These awards are due to be presented next weekend in London, England. Tonight we can report that this award program is due to be broadcast on Channel 4 in the UK Saturday April 1 from 6:00pm – 7:00pm. The Radio Times website also indicates the following:
"Highlights from the glitziest awards ceremony in the book calendar as Richard Madeley and Judy Finnigan host the show which covers the presentations and the post-award interviews. Nominees and awards presenters include JK Rowling, Sharon Osbourne, Jamie Oliver, Rupert Everett, Alan Bennett, PD James, Vanessa Redgrave, Richard E Grant, Andrew Flintoff, Ellen MacArthur, Piers Morgan and Jimmy Carr. "
We do not know if this means that Jo will be presenting, or even attending; the only thing we can confirm that HBP was nominated for the award. Also tonight we are hearing from many of you, as well as MuggleNet, that the same Richard & Judy apparently announced today on their television show that J.K. Rowling was to be interviewed for their show in conjunction with their new series of interviews begining on June 19th. This is a few days before Jo is to attend the Queen's special birthday party being held at Buckingham Palace on June 25. We are trying to find out more about this possible interview and will update with more as soon as we can. You may still vote for the British Book Awards via this link until March 27. Thanks to MN and everyone who let us know!