PotterCast #32 Now Available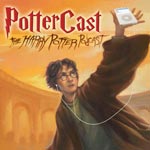 Mar 28, 2006
Uncategorized
PotterCast #32 is ready for downloading! .
In this show:
-Melissa podcasts from Las Vegas, with a Lumos 2006 update
-Start sending in your RSVPs for the live podcast to [email protected]: make sure to include how many people are in your group and whether or not you're registered for Lumos. Like NY, this doesn't guarantee you a seat – we need to have an idea of how many people are coming.
-Sue will soon get to meet "The Girls Who Are Hufflepuffs and Also Mean"
-Coming BACK to PotterCast: the Impersonations Contest, the game show, and more
-Jason, Lori, Towerdweller and Kristin Devoe talk Scribbulus, Leaky's essay project (and Kristin's sound goes CRAZY – sorry guys)
-Next call-in show coming! Announcement soon.
-Is John cool enough for Slytherin?
-All sorts of Vegas details coming on the next LeakyMug (whenever it is…)
-Chaperoning the MuggleBoys
-Dieticians at Azkaban and Lucius's death
-Leaky's own Heather Campbell (makani) in the fan art interview
–Check out Heather's art
-Heather's obsession with drawing the Malfoys, and the "sitcom waiting to be written" that they are
-"Bellatrix is just a hoot," a.k.a., Heather's just a bit insane
-"Power's good, isn't it?"
-Peeves has invaded Melissa's radiator
-Talk about adult Harry Potter fans's contributions in the mailbag
-A Horcrux in the Riddle House? (The tea kettle, says Sue)
-The Horcrux treasure map
-Fan Art Challenge: Inferi wearing Groucho Marx glasses
-Kerplakistan

Running Time: 1:22:10
If you are new to all this podcasting stuff, it's really easy: download and install iTunes, then click here to listen. Everything else is at PotterCast.com – you can also direct download it here, and discussion of the PotterCast is right here. Have fun!