Half-Blood Prince Named British Book of the Year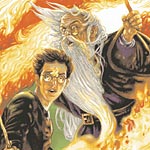 Mar 29, 2006
Uncategorized
Update: See pics now in our gallery, with hi-res on the way.
Harry Potter and the Half-Blood Prince has been named "Book of the Year" at the British Book Awards held tonight in London. Jo is quoted by the BBC as saying "I'm delighted that Harry Potter continues to give so much pleasure to adults and children." She was also asked about the progress of Book Seven, and she said:
"I am enjoying writing the last book in the series and it's coming along nicely"
You can see some photos of Jo at the awards here and here. The award ceremony will be aired on Channel 4 in the UK on SaturdayApril 1 from 6 to 7pm. Congratulations Jo!
UPDATE: The AP has this photo of Jo holding the award for Book of the Year.