New Voldemort, Trio Interview Goblet of Fire DVD Clips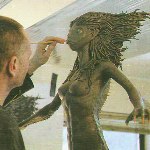 Mar 03, 2006
Uncategorized
Warner Brothers has updated the Daily Prophet section on HarryPotter.com with four clips from the Harry Potter and the Goblet of Fire DVD. Two of these clips we have posted here previously, but the other two are new, including one featuring more on Ralph Fiennes as Lord Voldemort. This clip (Clip 3) shows some new sketches of Voldemort reborn, and includes some behind the scenes footage of filming in the graveyard. This clip also appears to have a brief deleted scene, or two lines from Voldemort to Wormtail and the Death Eaters that gave this editor the chills. There is also a new clip (Clip 4) about the Four Champions that features some terrific new behind the scenes footage, and good new interviews with the cast members.
AOL Moviefone has also updated their video clips page on Goblet of Fire with a "Inside the DVD" feature that includes new interviews with the trio at the begining of the feature. Click here to watch. Enjoy!
Update: There is yet another new DVD promo clip now about Voldemort (Windows Media) High, Low
The Harry Potter and the Goblet of Fire will be available on DVD on Tuesday, March 7. Thanks Matt for the heads up!