PotterCast #29 Now Available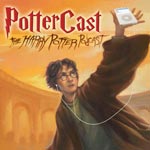 Mar 07, 2006
Uncategorized
Happy Tuesday! The 29th PotterCast is now up and ready for download.
In this show:
-Oscar nominee and BAFTA winner Stuart Craig, production designer of the Harry Potter films, on the kind of nitty-gritty detail only we fans care about
-Coming this week: The first-ever Harry Potter Fan DVD Commentary, with the PotterCasters – a full-length audio track to listen to with "Goblet of Fire," since there isn't one already present on the disc. These commentaries have been popular with "Serenity" and in other fandoms, so we thought we'd give it a whirl here – you may not get all the backstage details (though you WILL get set details from our set visits), but we hope to keep you entertained at least. The first one is expected Friday on the PotterCast feed, with the rest of the films, and tracks with different commentators, for the future.
-Fan Interview: Kelly Thompson, a Leaky reader and fan who won a contest to interview Dan Radcliffe, Emma Watson and Rupert Grint on the "Goblet" DVD. She tells us all about her experiences.
-In the modcast, Jason, Lori and Kim, discuss Dumbledore's Army
-Voldemort's death via mandrake?
-The Voldemort's earmuff's fan art challenge
-Draco and Luna's roles in book seven
-How to destroy Horcree (says John, "Not by burning them")
-Worst wrapup ever
-Have you voted this month? (We forgot to ask during the show.)

Running time: 1:14:58
If you are new to all this podcasting stuff, it's really easy: download and install iTunes, then click here to listen. Everything else is at PotterCast.com – you can also direct download it here, and discussion of the PotterCast is right here. Have fun!