Phew. Leaky's Back.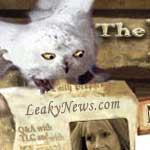 Apr 01, 2006
Uncategorized
Oh, we know we had some of you. For like a second.
We tried working with the great boys over at MuggleNet, but the small interactions we usually have are enough. We couldn't stand how they kept replacing our coffee thermoses with chocolate milk, and insisting on video game consoles in the conference rooms. Not cool with this set.
Big thanks to Dylan for making the layout and Ben for putting the site together; Andrew for writing what had to be the funniest About Us page in history, and all the girls and boys at LeakyLounge for turning it, for the day, into Leaky Mug Cafe. There's still smoke coming out of the sides of our server, thanks to the bizillions of you pounding it. Our own Heather Campbell and KimmyBlair were responsible for the hilarious cartoon artwork there, and Nick Rhein and Doris kept the place from exploding. And I got to write a Wall of Shame (they really were real emails), which made, for me, the whole thing worth it!
All of it will be kept in archive form on LeakyMug.com, which was originally purchased as a place to have our site for our joint Muggle/PotterCasts. That will still be the place for that – the name sitting there unused on April Fool's Day was too tempting to ignore. Not that any of it was an April Fool's joke. I still have a ring.