West Ham Football Manager Cites Harry Potter as Influence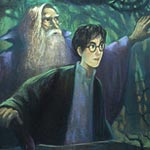 Apr 10, 2006
Uncategorized
Alan Pardew, manager of the West Ham United Football Club says that the Harry Potter series, especially Prisoner of Azkaban has been a strong influence on him and on his team's success this season.
"'I surround myself with strong characters, winners and people who I like to think have good, sensible morals.
'I include all my staff and players in that, and if I don't see it in an individual, then I get rid of that person.

'I don't like people who drain my time and energy. If you've seen the Harry Potter films, we use the term 'dementors' – people who can draw the life out of you in terms of your energy.

'So we eradicate the 'dementors,' encourage the positive people, and that spreads around to create the team spirit we have here.'"

Dean Thomas will be delighted!

More information may be found here.