Leaky Nominated for Webby Award; People's Choice Open Now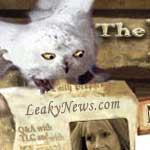 Apr 11, 2006
Uncategorized
Today, Leaky is greatly, greatly honored to say that we've been nominated for a Webby Award, the most prestigious Web accolade, in the Best Celebrity/Fan Site category. To say we're excited is a … well it's a bit of an understatement.
And this time, THIS time, we've remembered to post about it on the VERY first day possible: We could use your support! There is a People's Voice component of these awards that you can participate in by clicking here and signing up and voting (once you've signed in, click here – thank you! Voting is open until May 5!
We're flabbergasted to say we're nominated next to the Web sites for Prince (not Half-Blood, the actual artist) and the Grateful Dead. (It's great to see a Potter site next to those!) Nominated in other categories this year are Google, Flickr, Technorati, Writely, the Library of Congress, and so, so, so many more with whom we're amazed to share Web space.
Win or lose, we are so, so, so proud of this, so proud that "so" seems to be the only word on our minds. And John Noe, Nick Poulden, Sue Upton, Nick Rhein, Doris Herrmann, Kristin Brown, Alex Robbin, Julie Tynion, Heather Campbell, B.K. DeLong, Chris Chang, Donna Hosie, Mary Hamm, Kristin M and the Scribbulus team, forum mods, elves, chat moderators, all the many, many people who keep this place working every day – these people are why Leaky has grown the way it has. We're so proud – I, personally, am so proud of this bunch – and more honored than we can say. Wait, did we say that already? Maybe we could say it, then. Or, maybe not. Or… we don't know. We're really thrilled, OK?

PS: Thank you to MuggleNet for the classy show of support. We appreciate it a great deal.