Harry Potter Reading Groups Reopen Tomorrow Morning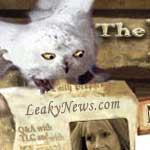 Apr 14, 2006
Uncategorized
Since they filled up so fast last time, we are re-opening sorting for our LeakyLounge Reading Groups tomorrow morning at 9 a.m. EST. (See the announcement here.) This will be to discuss Harry Potter and the Philosopher's/Sorcerer's Stone; if you signed up for the waiting list last time, you will NOT need to sort – you will be sorted into one of the new groups around midnight tonight.
We're stopping this sorting at 1,000 members; the next sorting will be for Harry Potter at the Chamber of Secrets, in about six weeks.
sorting filled – all others will need to sort themselves into a group.
The new sorting will begin at 9am EST. This will be the final sorting for anyone who wants to get into a SS/PS reading group. Please sign up early to assure a space. Space will be limited to 1,000 members.
The next sorting will be for discussion of Harry Potter and the Chamber of Secrets, and will take place in aproximently six weeks.
If you are already in a group, don't re-sort; you're fine. The link to the sorting will appear in this announcement tomorrow morning.