New Interviews with Actors David Thewlis and Richard Griffiths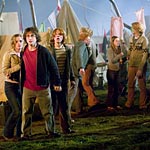 Apr 20, 2006
Uncategorized
There are two new interviews today with actors from the Harry Potter films. In this piece with the Evening Standard, David Thewlis discusses his career, his joy at parenthood, and his relationship with his partner Anna Friel. The interviewer mentions that he thought David would be more maniac like his role in the hit film Naked. David responds:
"That was a long time ago," he says. Then he laughs. "But I can do mad," he says. "I am Professor Lupin in the Harry Potter films, remember…"
David will return again as Remus Lupin in Order of the Phoenix.
Richard Griffiths, who will return as well as Uncle Vernon in Order of the Phoenix, is the subject of a new interview with the New York Post. Richard says he is always attracts the attention of children , but notes:
Vernon is the most unsympathetic character, so the kids expect me to be horrible. And who am I to disoblige them? I mean, I love kids, but I couldn't eat a whole one."

As for his kid co-stars in the Potter films – Daniel Radcliffe, Emma Watson and Rupert Grint – Griffiths says that as the movies get "darker and increasingly complex, massive acting demands are going to be made on them." And he wonders: "Will they have the emotional technique to do it? It's going to be very interesting to find out."
Harry Potter and the Order of the Phoenix is currently filming in England, and will be released in theaters on July 13, 2007.