Rupert Grint Interview with "Alloy"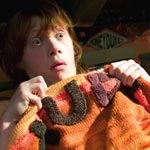 Apr 21, 2006
Uncategorized
There is a new interview with actor Rupert Grint (Ron Weasley) in "Alloy" where he discusses both the Harry Potter films, and his new movie Driving Lessons. Rupert discusses why he took on this new role, and how it was different making this film than the Potter films. Some excerpts:
Why did you decide to do a different type of movie now?
RG: The Harry Potter movies are so long, and as good as they are, it's nice to do something different. This came up, and I figured it would be a nice change. It's a much more grown up film — there's a bit of swearing in it. Also, I was looking forward to the driving bit.

You had your first onscreen kiss in this flick. How was it?
RG: That was a bit different. It wasn't as bad as I thought.

In the Harry Potter movies, you did a lot of acting with a blue screen, where special effects were added in later. How did it feel to just do straight acting in a natural setting?
RG: It was different. [With] every Harry Potter, [there's] been blue screens — we've had to act with nothing. It was much easier not having to do that this time. There are no special effects with this one; it's more straightforward, which made it more appealing to do because of the contrast.
To read the entire interview, click here. Driving Lessons will screen at the Tribeca Film Festival on Sun. April 30th at 8:30pm . Thanks to HPFZ!