Grint Talks DA Scenes in Order of the Phoenix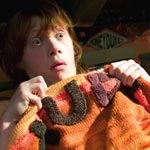 Apr 24, 2006
Uncategorized
As part of the upcoming release of Driving Lessons, we have seen several recent interviews with actor Rupert Grint; the newest one now with MTV. Rupert, who plays Ron Weasley in the Harry Potter films, discusses scenes he is currently filming for Phoenix, in particular one sequence in the Room of Requirement with the DA and Hermione (played by Emma Watson).
He's got plenty of time to practice until those scenes come up — for now, he's knee-deep in shooting fight scenes for "Harry Potter and the Order of the Phoenix," due June 13, 2007. Grint's already wrapped the scene where he and Harry take on Malfoy's henchman Crabbe and Goyle in Umbridge's office, and he's currently in a weeklong stretch where Potter teaches an underground Defense Against the Dark Arts class to a group of rebel students calling themselves Dumbledore's Army. These take place in the Room of Requirement, a magical room that becomes whatever you need of it. The students need to learn to fight, so they practice stunning, disarming and other spells on one another.

"I'm dueling Hermione," Grint said, "and I get thrown back a lot, which we do with me wearing a harness. We're doing quite a few stunts, but the really big fight scenes are coming up."
Rupert is due to appear at the screening of Driving Lessons Sunday, April 30 at the Tribeca Film Festival in New York, where tickets and access will be very hard to come by. Harry Potter and the Order of the Phoenix will be released next year on July 13.