Tony Maudsley to Play Grawp in Harry Potter and the Order of the Phoenix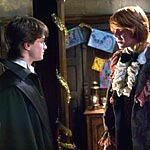 Apr 26, 2006
Uncategorized
Leaky is happy to reveal that Tony Maudsley is confirmed to portray Grawp in Harry Potter and the Order of the Phoenix, representatives for the actor confirmed to Leaky today. The role is that of Hagrid's giant half-brother that he brings back from his travels. Grawp was confirmed to be in the film when producer David Heyman said as much to TLC/MN at the Goblet of Fire premiere in November. This casting was rumored by MN a few months ago.
We don't yet know if this is a fully-CGI'd role or not; it's very likely there will be a lot of computer animation involved, as Grawp exists on a higher altitude than all characters. We only now know it's not a complete voiceover, or he wouldn't be needed in the studios; he'll likely interact with mostly green/blue screens as he works, and the character's physical traits will be molded after him, similar to Andy Serkis' Gollum in Lord of the Rings.
Maudsley is known for roles in Vanity Fair and Sleepy Hollow. He has worked with the Garrick theatre company as well.
Update: WB has followed up with a confirmation of Tony as Grawp. All official from all sides, folks!