Bloomsbury Announces Profits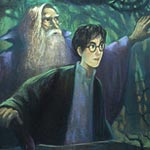 Apr 03, 2006
Uncategorized
Bloomsbury, the publisher of the UK Harry Potter books, will be announcing major profits this week, according to Wales.co.uk.
"Bloomsbury has put investors on standby for profits of at least £20m, so debate in the City is focused on whether it can beat that benchmark. Six analysts suggest Bloomsbury will report pre-tax profits of £20.2m tomorrow, compared with £16.4m a year earlier.
The past year was dominated by Harry Potter &The Half-Blood Prince which beat sales expectations and heightened interest in the earlier novels. It also encouraged Bloomsbury to publish an audio book for the first time."

UPDATE: Record-breaking sales of HBP contributed to Bloomsbury's announcement today that its full-year profits increased by almost 25%, to £20.13 million (over $35 million USD). The announcement did not include, as was hoped, a release date for the seventh and last book of the Harry Potter series. More information, from the Times is here, and from the Scotsman, here.