Bloomsbury Set to Launch Special Harry Potter Box-Set, New Audio Series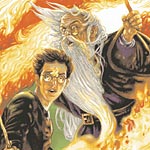 Apr 04, 2006
Uncategorized
In addition to the earlier news about their profits from the Harry Potter books, UK Publisher Bloomsbury also revealed some upcoming plans for the next five years related to the series. The AP reports that :
"The date for the seventh and final book has not yet been confirmed, but the publisher intends to print a paperback edition 12 months later. It also plans to launch a box-set edition of all the volumes and continue to launch editions to coincide with the film releases, the fifth of which is scheduled for July 2007."
This is the second time in recent days that we are hearing of a July 2007 timeframe for the release of the Harry Potter and the Order of the Phoenix film. The Scotsman report on Bloomsbury also notes that along with the special box sets we can expect "cloth-bound editions and an audio series connected to the Potter phenomenon, are still to come along. " We do not know what this new audio series is, and we will update with more information on this series when we can.