PotterCast #33 Now Available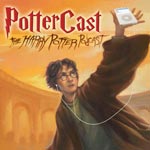 Apr 05, 2006
Uncategorized
PotterCast #33 is ready for downloading! .
In this show:
-The Second PotterCast Impersonations contest: open NOW! Click here for more details
-Voicemail Challenge: How does the chess game from book one relate to the rest of the series? (Calling Knight2King people!)
-Continue to send your Lumos RSVPs to [email protected]
-If you can't go to Vegas, don't worry! We're planning lots of coverage/video/audio.
-John thinks he has a way to stream the live podcast?
-Harry potter crafts discussion with Josee in the fan interview: cross-stitching, photo albums, knitting; making time turners, pensieves, wands, and more.
-Partying anesthesiologists
-April Fool recap
-The pic of the Memerson4Life IMs
-The WOMBATs
-The rumored movie release date and how it jibes with rumored book release dates
-Flag Day
-Hints about new upcoming segments
-The Galleries forum
-Discussing the Dursleys (Lori Damarell gives an "Order of the Phoenix" reading)
-Verdict on the Dursleys: They're not cool
-Is Vernon afraid of Petunia?
-"Oh no, my sister's just blown something up."
-What Petunia might have seen in Vernon
-Guru does not have painted nails
-In the mailbag: How Ron and Hermione will help Harry in the next book, the possible Fidelius Voldemort Loophole, the Horcrux ring, the absence of Mundungus in Order of the Phoenix.
-Expelliarmusing a locked door
-Kristin to John "You are a terrible man."
-The John Plus Doll
-Call-in show to be announced soon

Running Time: 1:15:57
If you are new to all this podcasting stuff, it's really easy: download and install iTunes, then click here to listen. Everything else is at PotterCast.com – you can also direct download it here, and discussion of the PotterCast is right here. Have fun!