PotterCast Call-In Adjustment; Chris Rankin to Join Show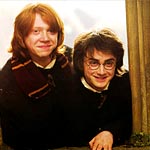 Apr 07, 2006
Uncategorized
We're done for now guys; there's no call count but there are 200 new voicemails and several people who tried to call several hundred times, and all our computers just about blew up. Gah! Can't even imagine what will happen tonight when Chris is on. If you get through, please don't call again – let other people get a chance. And instead of pounding the number, wait a few minutes before calling back. We've been asked about our WOMBATs a lot, and about what scenes we don't want cut from movie five – just FYI.
We have a little adjustment to the announcement of our live call-in PotterCast that will take place tomorrow (already "today" in the UK). Intead of from 1pm to 3pm EDT, we will have one hour from 1pm to 2pm, and another from 10pm to 11pm, because PotterCast semiregular Chris Rankin – a.k.a. Percy Weasly in the Harry Potter films – has agreed to be there with us for the second portion, available to your questions, and all his schedule allows for is 3am his time. He's a bit insane, you see. So, that means he won't be around for the first hour, but will be around for the second; we know this is late for you UK people, but maybe it'll open up some options for those of you in different parts of the world bemoaning your time zone fate. SO: PotterCast Call-in Show is now:
1pm to 2pm EDT, Saturday, April 8
Sue, John and Melissa
10pm to 11pm EDT, Saturday, April 8
Chris, Sue, John, Melissa
You can call us by do so by using Skype to contact the name PotterCast, or use a good ol' phone: Our numbers for this 'cast are:
1.702.42.LEAKY (U.S.)
02071932872 (U.K.)
Can't wait to talk to you all!