Michael Gambon Performs in Dublin, Without Speaking a Word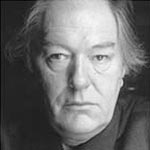 Apr 09, 2006
Uncategorized
Michael Gambon is currently performing the title role in Samuel Beckett's Eh Joe at Dublin's Gate Theatre. The play is the stage premiere of a work originally written by Beckett for television in 1965, in which a middle aged man listens intently to the voice of an unseen woman, reacting powerfully to her words but never speaking. Here is part of the review, from the Financial Times:
[The drama] becomes doubly [inexorable] because of the way Michael Gambon listens to it as Joe. (Yes — a role in which this great actor never utters a word.) Here is another haunting face, with its pouches and bags and creases: here it becomes the muted embodiment of guilt and alarm. Gambon is a physical actor of consummate eloquence, but here the screen shows us the tiniest of details across this huge portrait canvas of him: a flicker of the damp eyes; a slight stiffening of the neck; a change of breathing; a sudden blinking; the least twitch in the corner of the mouth; a faint fall of the head; a tic in one of the heavy bags beneath the eyes. That list makes his facial acting sound busy, but all you feel is the numb emotion behind the face. That, and the panicky scarperings of his mind. To watch that face in this detail, and in one unbroken live take, makes for unique theatre.
Performances of Eh Joe continue until April 15.