New Essays – Scribbulus Issue #3 Now Live, Plus Text-Only Page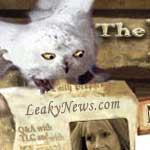 May 01, 2006
Uncategorized
Issue 3 of Scribbulus, Leaky's essay project, is now available, containing 12 new essays for your perusal. We also have a new text-only page for the essay section, as some of you have browser trouble or wish to print the pages for keeping. Enjoy!
In this issue, Clunycat "stoppers death" by studying Severus Snape as the Egyptian death icon ("Severus Snape and the Anubis Archetype: Smoke and Mirrors"); Sugarquill looks at Occlumency in "Matters of the Mind", MaraudingDon is back with her famous "Boil Him In Shampoo!" theory on Snape, and we "brew glory" by looking at Sirius Black on the hero's journey in "Sirius and Buckbeack" by Gwynog'srabbit. So…on to the Scribbulus potions class! We promise, the Slytherins won't bite…hard!
To discuss these essays and more, visit our Scribbulus forum on the LeakyLounge!