Interview with Roger Lloyd Pack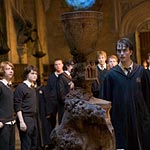 May 13, 2006
Uncategorized
There is a new interview today with actor Roger Lloyd Pack who discusses his role in Harry Potter and the Goblet of Fire as the Ministry of Magic offical Barty Crouch Sr. Mr.Pack reunites with David Tennant (Barty Crouch Jr.) for a two- part episode of Doctor Who called Rise of the Cybermen. On working with David and his whole GoF experience Roger Lloyd Pack says:
"It [Harry Potter] was big budget, great production values, the job went on for nine months on and off and a nice character [Barty Crouch Senior] to play – something to get my teeth into. It was a big production and there aren't many films made like that, certainly in this country.

"It was a good crack, it's just a pity he had to die really.

"I'd read the first book as my children were appropriate ages for Potter when he first came out. I did see all the films — I always prefer the films to the books to be honest with you. It was a fantastic set. There were dozens of workmen working for weeks on that set, it was stunning and it was thrilling to do those scenes," he added."
At this link, you can also listen to the interview with Mr. Lloyd Pack.