PotterCast #39: Horcri hears a Jo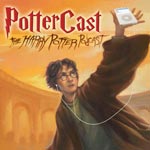 May 15, 2006
Uncategorized
PotterCast #39, Horcri hears a Jo, in which John pays the piper for his famous misnomer, is live:
In this show:
-Jo has put the smackdown on John's "Horcri," validating Melissa and Sue's last half-year of shouts of disapproval. And now John's having big trouble.
-Who else has made a horcrux? We discuss it in Canon Conundrums (John thinks it's Dumbledore)
-Next Canon Conundrum: What is Bellatrix's Lestrange's relation to Voldemort and the main story? Leave your voicemails now at the regular numbers!
-The relevance of green in the books
-Is Snape the real Dark Lord?
-We're just sayin'
-Flemland
-John and Sue's world's worst English accents
-Gaaaarp
-More on the second live NYC LeakyMug
-Modcast: Harry's training in the past couple of books
-Time to dust off Mr. Blood
-"If anyone deserves a happy ending, it's Voldemort" (ie, the modcasters are mad)
-Waste not, want not!
-How did Tom know to ask Slughorn about Horcruxes?
-Lynching Snape
-PotterCast 40: A Celebration! – on the way.
-Keep an eye on PotterCast.com
Running time: 1:21:04
If you are new to all this podcasting stuff, it's really easy: download and install iTunes, then click here to listen. Everything else is at PotterCast.com – you can also direct download it here, and discussion of the PotterCast is right here. Enjoy!