W.O.M.B.A.T. Review: The LeakyLounge's Study Course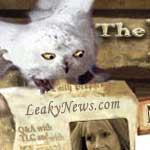 May 17, 2006
Uncategorized
Nervous about your next W.O.M.B.A.T. test? Do standardized wizarding exams make your palms sweat? The idea of the looming Grade 2 W.O.M.B.A.T. sending you into hysterics?
Never fear; the LeakyLounge, with the Chamber of Chat and the Corner Booth, have joined together to form a W.O.M.B.A.T. review course, where students can study for their next set of those tricky and difficult tests from the (slightly evil) sole examiner at JKRowling.com.
Starting at noon on Sat., May 20, a visiting "Hogwarts Professor" will give a practice OWL exam every hour in LeakyLounge's new WOMBAT Review Tutoring Center (which will open the day before the exam; we'll post a link, and the schedule of exams will be posted there.)
Prior to each exam, each professor will give a 30-minute review in the Chamber of Chat. Students will be able to study together in The Corner Booth, which will open at 12 p.m. EST and will stay open during the exam process for students to study together.
Students will be provided with anti-cheating quills. The exams and the tutoring schedule is:
OWLs:
* In The Leaky Lounge's new WOMBAT Review Tutoring Center (all times are Eastern Standard Time)
12:00 Defense Against the Dark Arts (DADA)
1:00 Transfiguration
2:00 Quidditch
3:00 Charms
4:00 Potions
5:00 Divination
6:00 Care of Magical Creatures
7:00 Herbology
8:00 History of Magic
Tutoring Schedule:
In The Chamber of Chat:
11:30 Defense Against the Dark Arts (DADA)
12:30 Transfiguration
1:30 Quidditch
2:30 Charms
3:30 Potions
4:30 Divination
5:30 Care of Magical Creatures
6:30 Herbology
7:30 History of Magic
The answers for the exams will be placed after the exam once the testing is closed. Students will be able to share their results in that thread. Owls (you"ll see) will be rewarded for all who pass their exams. Good luck!