New PotterCast.com Now Live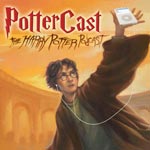 May 18, 2006
Uncategorized
PotterCast.com, the Web site for our podcast, has gotten, once again, a huge facelift. Go poke around and have fun, but first here's the rundown of what you can find in this new version:
Flash player: Listen to PotterCast right on the site, with a customized streaming audio Flash player that is small enough to keep on in the background while you sit at your comp
Blogs: ALL the PotterCasters will be blogging on the main PotterCast.com page whenever a piece of HP news or issue strikes their fancy. Yes, John too; and don't think we're not scared to let him loose on you all. These will be updated a few times a week to reflect different viewpoints, and to just have fun.
Polls: We'll have show-related polls on the main page and inside the archives, so that you can let us know what you think.
Episode ratings: Rate each episode so that you can provide new listeners with an idea of some of the favorites.
Comments: Comment on the blog, comment on the poll, comment at the Leaky Lounge.
News ticker: All your LeakyNews.com news scrolls across the top of the page.
AJAX: Used in small ways, AJAX helps to improve the site's overall function.
Improved search: A much better search engine than we've had, with even more improvements to come in the near future.
Still there are all your direct download links and transcripts, with more great features – such as a "random moment" from each show as well as a highlights reel – on the way. And soon there'll also be a PCGear section, for PotterCast Tshirts and the like.
Big thanks for this project go to superstar Alex Robbin, our programmer who slapped it all together in less than week; John for designing the whole thing yet again, proving how even after a Jo smackdown we love him; Chris Chang for creating our cool new Flash player; Naomi, Doris, Kim, Jason, KimmyBlair, Sue and everyone who helped get all our information into tip-top shape inside the new system.
Enjoy, guys! More coming soon (and in less than 13.5 weeks, we promise).