Followup: Muggles Find Arthur Weasley's Missing Car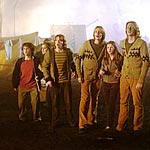 May 19, 2006
Uncategorized
Last fall we reported that Arthur Weasley, well known collector of Muggle artifacts, had his beloved Ford Anglia car stolen from a film studio lot. This crime has gone unresolved until now, as the enchanted vehicle has mysteriously turned up outside a magical fortress, or in Muggle terminology, Carn Brea Castle. The Scotsman reports that an anonymous call led them to the location of the missing car in Falmouth, Cornwall.
" The Ford Anglia, registration 7990 TD, is pictured on the front cover of Harry Potter and the Chamber of Secrets. Its magical properties are triggered by a silver button on its dashboard and, as well as flying, it has a Tardis-like expanding interior.
…

Carn Brea Castle, where the car was found, bears a striking resemblance to the Hogwarts School of Wizardry and Witchcraft which features in the Harry Potter books. "
No word if Ministry of Magic officials helped in the recovery, or when Arthur will return the car back to its proper home in the Burrow.