PotterCast #40: Bag of 'trix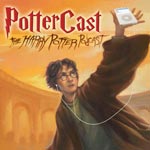 May 22, 2006
Uncategorized
PotterCast #40 is out and it's a special one:
In this show:
-Lordy lordy, we're 40! (Billionaires, send your corvettes to the PO Box!)
-A celebratory highlight reel of the previous 39 PotterCasts, made for us by the lovely Kyrane (it's at the END, not in the beginning like we originally said)
-In Canon Conundrums with Steve Vander Ark: Bellatrix Lestrange – what's her relationship to Voldemort and the story?
-Next Canon Conundrums: The whispers behind the veil. What are they?
-In the modcast: all about Fawkes's phoenix song
-Have you seen the new PotterCast.com?
-More on Jo's visit to NY, the status of the book seven title, and what she'll be reading at the Queen's birthday
-How has Dumbledore kept his close eye on Harry?
-Dumbledore's Clinique Bonus mirror
-Will Harry take over the Order?
-What kind of characters will be introduced in book seven?
-Huflfepuff Death Eaters?
-Victoria the robot to read emails?
-Coming up – 10 weeks of Lumos – a feature on one aspect of Lumos 2006 per week until the convention
You can listen to the show on iTunes (download and install here) by clicking here to listen, or you can just use the streaming Flash player at PotterCast.com. You can also direct download it here, and discussion of the PotterCast is right here. Enjoy!