Rumor: Terry Gilliam to Direct Half-Blood Prince?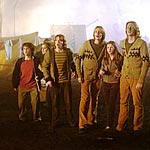 May 03, 2006
Uncategorized
IMDB has updated their site to list Terry Gilliam as the director for Harry Potter and the Half-Blood Prince. Readers will remember that in the past Mr. Gilliam has expressed interest in directing a Harry Potter film. While this editor would be thrilled if this were indeed the case, please remember everyone, this is still very early in the going, and this should very much remain in the rumor category for now. We are trying to find out more about this, and will update with more when we can. Thanks dangee!
UPDATE: IMDB has now removed Terry's name from the page for HBP, thereby quashing this rumor for now.
UPDATE # 2:Thanks to WB for letting us know that no one has yet been signed for Half-Blood Prince.