Leaky the First Fan Site to Win Webby Award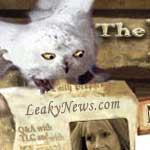 May 09, 2006
Uncategorized
Well, guys, thank you! Because of you, Leaky has become the first fan site to win the Webby Award, considered the "Oscar of the 'Net." We took the People's Voice award in our Celebrity/Fan category; the official site for Prince took the judge's award. Other People's Voice winners this year include my.yahoo.com, Google Maps, Google Earth and many more sites with which we're honored share a page.
So, we're partying! Everyone grab your moroccas, we're throwing a little celebration as thanks over in the LeakyLounge. We're told some Hogwarts denizens might crash it in a little while… watch out for Peeves!
Leaky had upwards of 65 percent of the popular vote, as of 24 hours before the polls closed; the closest other site had 12; that is some great devotion, guys, thank you!
While you're partying, make sure to give a big Leaky butterbeer toast to the following people:
John Noe, who was sure we could be more
Nick Poulden, who made being more possible
Sue Upton, who knows how to give more
Nick Rhein, who first thought we should do more
Doris Herrmann, who figures out how we can do more
Kristin Brown, who gives each reader more than they ask for
Alex Robbin, who cannot possibly do more
To Julie Tynion, Steve Vander Ark, Lisa at the Quick Quotes (and ALL our Floo counterparts, including Bel and so many others), Chris Chang, Heather Campbell, Donna Hosie, Mary Hamm, Stede/Steve/Jeff/Mike (the PotterCast editors), Kristin M (and the Scribbulus crew), Amy S, B.K., Kim P, Jason (Guru), Lorie Damerell, the forum mods, the elves, the reading group leaders, the chat moderators – in short, the small army of people that keep this place running and growing the way it has.
Thanks also to the guys at MuggleNet their support of our nomination, which surely helped push the win to the landslide.
On a day like this we should also really celebrate our roots: Thank you Kevin C. Murphy for starting this site, thank you B.K. DeLong for being the first person to build it up, and thank you Rames El Dousuki (I'm fairly sure I massacred the spelling) for recommending early on that BK take me in as an editor. These are three strong and talented men without whom Leaky would not be what it is today.
Thanks to all our past editors: Jojo and Mischa and Heidi and Megan and Rhiannon and so many others we've worked with over the years.
And to be honest, what has made us most proud over these few weeks has been to see all the amazing, touching comments you've made on the Webby site; when they become available again we'll link them. This site seems to mean a lot to you guys. And it means a lot to us, to share it with you. Thank you so much for this honor – we promise, there is more coming. A lot more.

On a personal note: I'm the luckiest person in the world, to know and work with these talented, excellent people. They make this ridiculously simple.
Now go party!
Oh, and PS: Last year's winner of this award was Eddie Izzard. Just a happy thought for us. CAKE OR DEATH! Ahem. OK. See you at the shindig.
PPS – some of you have asked us to bring back photos and more from the Webby Gala on June 12. We assure you, we will. We're supposed to have a five-word speech prepared. And we know 'xactly what's perfect to say.

We'll write a report, HONEST.