Richard Griffiths Profiled in New York Times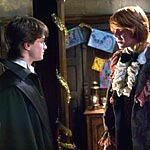 Jun 11, 2006
Uncategorized
Richard Griffiths (Uncle Vernon) is profiled in today's New York Times. The Tony-nominated actor talks about the challenges of being raised by two deaf parents, his character in "The History Boys," his own physical problems, and his missed opportunity to play Oliver Hardy to Jonathan Pryce's Stan Laurel. Here is a snippet, in which Mr. Griffiths reminisces about his father:
"He was a terrifying man," Mr. Griffiths said. "He had an amazing quality of understanding humanity. You couldn't lie to him because he knew it instantly, because his hunting instincts were more of the crocodile than the lion, and if you'd lie, you'd catch it five times worse."
You can read the article here; registration is required, but free.
Thanks, Kyra!