Monty Python and the History of Comedy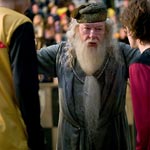 Jun 13, 2006
Uncategorized
Comedian John Cleese (Nearly Headless Nick) has given a new interview where he says he plans to retire from "writing and performing sitcoms," and will instead write a book "on the history of comedy and will hold classes explaining how to make people laugh." Mr. Cleese, one of the founding members of the legendary Monty Python comedy troupe, says that too much of the comedy today is poorly written, and that the perfomers of today aren't aware of the "basic principles" of comedy, reports the BBC. Mr Cleese notes:
"It is very rare today to see someone with that grasp of old-fashioned comedy," he said.

"The last truly excellent performance I saw was Eddie Izzard. But Ricky Gervais is also a match for the great American sitcoms."
The AP reports that this book be a " history of stage, film and TV comedy, from silent screen classics to the workplace sitcom "The Office." The BBC has a profile of the many contributions of John Cleese to the world of comedy via this link.