Leaky and Potter Fans At the Webbys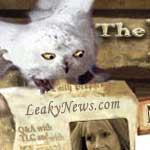 Jun 14, 2006
Uncategorized
On Monday night, John Noe and I went to the Webby Awards, the "Oscars of the Net," to represent you all and pick up the People's Voice award for best Celebrity/Fan site; it was the first time a fan site has taken home a Webby and we were unbelievably thrilled to do it. We've uploaded pics in our gallery (John's Slytherin tie was courtesy Alivan's, and I wore green to match his Slythness), and put up a full report at the blog on PotterCast.com. Our speech, which had to be five words long, was, "Nitwit, Blubber, Oddment, Tweak, Rowling," of course.

Rob Corddry called it "Very Dada." Thank you all again! We were so proud to represent you.
See a great compilation from RocketBoom here!