Alex Joins Leaky's Senior Staff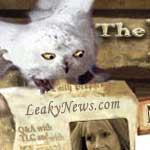 Jun 16, 2006
Uncategorized
We're excited to announce that staff programmer Alex Robbin has now been promoted to become a Leaky senior staffer, with all the perks (uh…) and benefits (well…) that come with that. Like meetings. And more responsibility. And people to manage. And projects to oversee. And sitewide decisions to make. And more headaches, and phone calls from me, and nudges from John, and…
…you sure you want this, Alex?

In all seriousness, Alex has done so much for Leaky that he's been owed the recognition for a long time. He has often been the driving force behind finishing a project, such as the recent Gallery redesign. He also almost single-handedly coded the new PotterCast.com, in record time. When he came to Leaky all we could think was, "OK, this kid needs to RELAX," because he was so eager. Yet he has become an indispensible part of the team that keeps this site going, and so we thought we'd let everyone know it. So we hope you'll join us in welcoming him to the top level of the most stressed out team in the HP biz.