PotterCast #44: The Internet is for PotterCast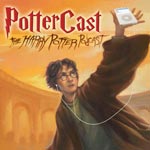 Jun 18, 2006
Uncategorized
PotterCast 44, "The Internet is for PotterCast" (points if you get the reference first…) is now up! Remember to hit "Update" on your iTunes!
In this show:
-This week's special guest: Tom Morris, author of "If Harry Potter Ran General Electric." Sue interviews Dr. Morris as our third "Lumos Limelight" spot.
-In Canon Conundrums: Is Neville under a memory charm?
-Modcast: The Marauders' Friendship – how did their relationship change and what caused Peter Pettigrew to betray them?
-"What show did our podcast just turn into for a second?"
-Dorky mimbulus mimbletonias.
-Uncle Vernon pwns Voldemort
-More Webby stories – John tried to pat Prince's butt
-A Chipotle Miracle
-Dawlish – the new Smurf. The Museum of Natural Dawlishes
-John on every Potter show this week
-Hott Cheryl!
-Morris: "These stories are about the classic virtues."
-Albus Dumbledore, CEO
-The Internet is for Po- uh – Pottercast!
Running time: 1:25:00
The final edit of this show was completed by editor Jeff Gregory
Remember you don't need an iPod to listen; just a computer and an internet connection, which you already have! You can listen most easily on iTunes, which you can download and install here by clicking here to listen, or you can just use the streaming Flash player at PotterCast.com. You can also direct download it here, and discussion of the PotterCast is right here. We will also have a chat tomorrow on the Leaky Lounge at 12 pm EST, so log in at that time for that! Enjoy!