Fiona Shaw Onstage in London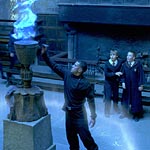 Jun 19, 2006
Uncategorized
Actress Fiona Shaw (Aunt Petunia) will be appearing on the London stage for a limited run in "Woman and Scarecrow," by Irish playwright Marina Carr. Whatsonstage.com gives this description of the play:
A Woman – gaunt and ill, haggard after giving birth eight times – faces death. What was life? What was love? What else could have been? Full of mordant, bitter humour, this is a passionate threnody from one of Ireland's leading playwrights.
Preview performances of "Woman and Scarecrow" at the Royal Court Theatre begin on June 16; the show opens on June 21 and runs through July 5.