Oh Yes I Can, I Read Green Eggs and Ham Says JKR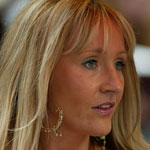 Jun 02, 2006
Uncategorized
There is a new book out by Jacqueline Wilson called "Great Books to Read Aloud" that includes recommendations from Harry Potter author J.K. Rowling. Jo discusses the books that she reads to her children, which include such works as "Hippos Go Berserk" by Sandra Boynton, and the classic "Green Eggs and Ham" by Dr. Seuss. Jo writes:
"One of my fondest memories of my eldest daughter at age five involved 'The Voyage of the Dawn Treader' by C.S. Lewis. I used to balance the book on top of a very tall standard lamp to prevent her reading on before the next bedtime. One day, while I was safely in the kitchen, she clambered up a set of shelves to reach the book, gulped down the next two chapters and then, hearing my footsteps, hastily returned it to its perch on top of the lamp. I only rumbled her because she showed absolutely no surprise when, during that night's reading, Eustace, the hero, turned into a dragon.

My two younger children are still immersed in picture books, although my son's most recent favourite is 'Dr. Seuss's Green Eggs and Ham', which quite apart from increasing his vocabulary, can also be used to persuade him to eat omelettes. I think we own the complete works of Sandra Boynton, which are so witty and well-written; my personal favourite is 'Hippos Go Berserk', but my husband and I both know 'The Going to Bed Book' off by heart and have often recited it in the dark to soothe a fractious toddler. The 'Hairy Maclary' and 'Slinky Malinki' books by Lynley Dodd are some of the most satisfying books to read aloud, with their rhymes building into funny stories. Finally, 'The Snail and the Whale' and 'The Gruffalo', both by Julia Donaldson and illustrated by Axel Scheffler, have given literally hours of pleasure to the whole family."
There is also another recommendation from Simon Mayo, who is a DJ on the BBC. He writes about Jo and the Potter novels saying:
"I will always claim that I read aloud to our three children for their benefit. That it was good for their educational development to sit and listen last thing at night. That somehow, through hearing a story, their creative juices would be stirred. But it was, of course, for me. Nothing could beat the delight of disappearing into a new thrilling chapter. I am certainly no Stephen Fry, but the book is 'Harry Potter and the Philosopher's Stone' by J.K. Rowling. What a discovery it was, allowing me to show off my full repertoire of read aloud voices: posh, cockney, camp and Cornish. My camp Cornish delivery is, I believe, unique. Forget the Harry Potter hype, J.K. Rowling created a book that left children desperate for more. And I bet I am not the only parent who, having turned out the light said goodnight to their grateful offspring, sat down on the stairs and read on to find out just how beastly Draco Malfoy could be…"
Thanks very much to Wendy for this!