Sophie Dahl Talks Potter and JKR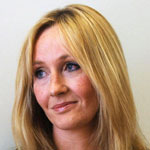 Jun 24, 2006
Uncategorized
In celebration of the Queen's 80th birthday, there will be a large children's party in London tomorrow, highlighting many of the famous figures in children's literature. Along with such authors as Philip Pullman, Eric Hill, and Raymond Briggs, J.K. Rowling will be among those reading from their novels. Jo will be reading from Harry Potter and the Half-Blood Prince at 5:30pm. There is also to be a special play following this reading, called "The Queen's Handbag," which is an adaptation of Roald Dahl's The BFG. The granddaughter of author Roald Dahl, Sophie Dahl, will be one of the stars of the play. In a new interview with the Times, Ms. Dahl speaks about her famous grandfather, the Harry Potter books, and J.K.R.
"Well, what's interesting about the Potter phenomenon is that my grandfather's books came before," says Dahl. Are you saying she ripped him off, I ask, thrilled at the prospect of a stand-up fight between the two women at Sunday's garden party?

"Well no," she says carefully, "but JK Rowling has been very generous in acknowledging how she was influenced by him, and you can see it in Potter. My grandfather was probably funnier than her, and she is probably more epic, but it's clear how like him she is in other ways. She's interested in good and evil and, like him, isn't at all afraid of the dark side of life."
The BBC has also put together this page where you can hear excerpts from some of the other classic children's books being featured at the party, as well as downloads to help you host your own party at home. Highlights and more from the Children's Party at the Palace will be aired tomorrow on the BBC at approximately 6pm.