Leaky and PotterCast T-Shirts Now Available!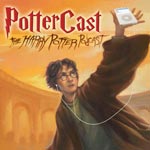 Jun 26, 2006
Uncategorized
At long last…presenting…Leaky and PotterCast T-Shirts! We know you've been asking for a long time, so we finally have them regularly available, and right in time for Lumos and summer.
We have five new designs for you to choose from: The signature PotterCast T-Shirt, a navy design with a bunch of PotterCast catchphrases jumbled in the center (find your favorite…), which is also available in ladies' fitted; our Lumos Special, specifically for the PotterCast's appearance in Las Vegas, NV; our swirly, PotterCast "Tower" style, and lastly, a reprise of Heather Campbell's Leaky design from last year, now available again in summery blue and brown. This is the first time we've made TLC shirts regularly available; proceeds from shirt sales will fund this summer's podcast productions as well as the running of TLC and all the sites in the Floo Network. We hope you enjoy and thanks as always for your support! PotterCast.com will soon be updated with a permanent link to this gear. And if we spot you at Lumos wearing one of these…well…you'll find out.