PotterCast #42: Three Men and a Dawlish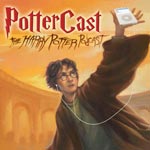 Jun 04, 2006
Uncategorized
PotterCast 42 is now available!
In this show:
-It's June, have ya voted yet? John singing "New York, New York" at Vegas (as promised on PotterCast.com depends on it).
–New: From now on every week, on Mondays from 12 pm EST, the Corner Booth, Leaky's text chat, will be open for a few hours to discuss the new PotterCast, with most of the PotterCasters likely dropping by at least for awhile.
-Canon Conundrums: Is Harry prepared to find the Horcruxes?
-Modcast: Harry Potter vs. Lord of the Rings – Harry Potter and the whole genre of fantasy – with Lorie, Jason, Doris and Naomi
-Can Harry be as powerful as APWBD? (Ten points to whomever figures that out first.
-Sue won't do math.
We can't introduce ourselves enough
-Melissa won't share which chapter Jo is reading in NYC (hah, like she knows it anyway)
-John ponders attending Comic-Con in a Worf mask
-Steve enlightens John that the Potter books all have "Harry Potter" on the cover
-Prince – not the half-blood one, the real music god – is going to be at the Webbys and Melissa and John flip out a little. Melissa thinks his IM name is IPwnPotter.
-Happy Birthday Jason Isaacs!
-The Mailbag is back
-An outtake made up of several fits
Running time: 1:14:11
The final edit of this show was completed by editor Jeff Gregory.
You can listen to the show on iTunes (download and install here) by clicking here to listen, or you can just use the streaming Flash player at PotterCast.com. You can also direct download it here, and discussion of the PotterCast is right here. Enjoy!