EW: Harry Potter Number Two Fictional Character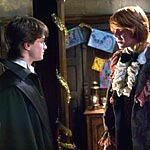 Jun 05, 2006
Uncategorized
There is a new list out from Entertainment Weekly magazine, this time of the top fictional characters. Harry Potter came in at number two on their list of top franchise characters, with Wolverine from X-Men taking the top spot:
Few other teenagers could boast of vanquishing evil wizards and box office records even before puberty began to take root. The most recent film, Harry Potter and the Goblet of Fire, has raked in $290 million, bringing the series' total box office to more than $1 billion. The sixth chapter, Harry Potter and the Order of the Phoenix – directed by series newcomer David Yates (The Girl in the Cafe) – will hit theaters next summer.
Note: yes we know that they have the number wrong, it's the fifth film, not the sixth. Thanks to everyone who emailed!