PotterCast 47, "Pants," Now Online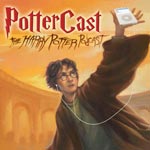 Jul 10, 2006
Uncategorized
PotterCast 47 is now up; remember hit "Update" on your iTunes (click here), or direct download here, or listen on the streaming Flash player at PotterCast.com.
In this show:
-Already RSVP'd for Lumos via email? Uh, would you do it again? At LeakyMug.com please?
-EE is back and it's huge: "Hottt" Cheryl Klein – editor at Arthur A. Levine Books and continuity editor on the American editions of the Harry Potter books, joins us for the entire show
-The Pants Game – win a ticket to Jo's NYC reading by being completely silly
-Melissa, Cheryl and Emerson on tour
-Cheryl shares her Meeting JK Rowling story, and tells of the horrible interview that naturally led to her being hired at AAL books.
-Canon Conundrums: What does the gleam in Dumbledore's eye from book four mean?
-More details from Inconjunction: Emerson as the head of Hufflepuff; Melissa as the head of Gryffindor (Update: Gryffindor won the house cup, ahemahem)
-Is Jo under pressure to tie the entire series together in one fell swoop?
-Mr. Blood is back
-Harry is a horcrux*
-7/7/07 – possible?
-Advice for aspiring editors
-Slumber parties and pillow fights
-IM with a Manuscript: Future Avatar
-Falling in biscuit
-Torturing Melissa is mean, but funny!
-Totally over Dumbledore? Not so much.
-Cheryl is the first EE guest to stay for an ENTIRE PotterCast
-Use the codeword Chipotle to submit your manuscript to Cheryl (info on her Web site) to let her know you heard her PotterCast (and to save 10 percent on your order)
-More details about the Harry and the Potters concert
-Voldemort is "The Man"
-Speaking of filks, Cheryl…
Running time: 1:31:50
Final Edit: Mike Neighbors
Remember you don't need an iPod to listen; just a computer and an internet connection, which you already have! You can listen most easily on iTunes, which you can download and install here by clicking here to listen, or you can just use the streaming Flash player at PotterCast.com. You can also direct download it here, and discussion of the PotterCast is right here. We will also have a chat today on the Leaky Lounge at 12 pm EST, so log in at that time for that! Enjoy!