Fan Made Video of Kreacher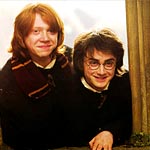 Jul 12, 2006
Uncategorized
We have been getting many emails about this fan made video making the rounds on youtube, showing what is supposed to be Kreacher from OotP. This video, which is neither official nor from OotP, was made a few years ago by an artist named Julian Johnson-Mortimer who said he made this on his own.
Christa: Do you have a favorite piece of your own artwork and if so, why?
Julian: I'm not sure I have a favorite of I would have to pick one it would have to be the Kreacher character. I made it a few years ago. It was an attempt to make a film res character by myself. I enjoyed making him, but never really had the time to finish him.
You can see more of the artist's work via this link. NOTE: While this is a pretty cool video and well done, everyone please keep in mind this is not the 'real' Kreacher as it were, from OotP. Filming for Harry Potter and the Order of the Phoenix is currently on hiatus, and will resume production later this month.