Coming to a Galaxy Near You, It's Asteroid Rowling!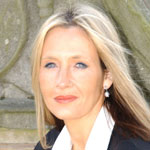 Jul 14, 2006
Uncategorized
Here is a story that Professor Sinistra would be proud of: our favorite author J.K. Rowling now has an asteroid named in her honor. This galactic news was unveiled earlier this year, as TLC reader Bandersnatch let us know the International Astronomical Union named asteroid # 43844 after the Harry Potter author. You can read the citation here. This asteroid was discovered by Dr. Mark Hammergren, who is an astronomer at the Adler Planetarium in Chicago. Dr Hammergren is also quite a Harry Potter fan, and is the one who submitted the name Rowling to the committe for consideration. As of now, we have no information on what this asteroid looks like, it's orbit, or what Jo's reaction is to this very cool and unique otherworldly honor, and we will update you with more on this when we can. Thanks very much to Bandersnatch! Outasight!
Update: Bandersnatch has some additional details for us on Asteroid Rowling.
"The asteroid Rowling takes 4.6 years to go around the Sun, at an average distance of 2.77 Astronomical Units from the Sun (which translates to 257 million miles or 414 million kilometers). The asteroid's diameter is not well known, but given how much light it reflects to our telescopes (not much), it is likely in the range of 1.5-3.5 miles across (2.5-5.5 kilometers). It resides in the main asteroid belt between the orbits of Mars and Jupiter, and is not visible without a large telescope. It's orbit does not come anywhere near
the Earth's orbit, so there is currently no danger of a collision.<./blockquote>