Rupert Grint Appears on BBC Sport Relief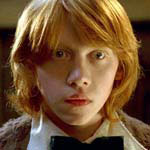 Jul 15, 2006
Uncategorized
TLC Reader Katy let us know that actor Rupert Grint (Ron Weasley) appeared tonight as the mystery guest on the BBC "A Question of Sport" TV show which was part of a charity event, and "re-enacted a scene in a pool hall from The Colour Of Money." This program features a sport quiz format, and involves a number of rounds of competition, one with a mystery guest. In the round with Rupert, contestants were shown some mystery footage, and this was of Rupert showing him playing pool, putting down money as a wager, and watching the match. The contestants then had to guess who this was, and after a while it was determined it was indeed Rupert. They then showed the video tape where Rupert "looked at the camera and without looking at the pool table, potted a ball into the corner pocket!" Unfortunately, Rupert was not interviewed for this program.
This program is part of the Sport Relief on the BBC, and was hosted by Stephen Fry, narrator of the UK Harry Potter audio books. Sports Relief is a charity event that "aims to bring the worlds of sport and entertainment together to raise much needed cash to help vulnerable people leading tough lives here at home and in the poorest countries in the world. " Anyone with screencaps or video, please send them in! Thanks very much to Katy!
Update: RupertGrint.net now has some screencaps, here. Thanks guys!