Vegas Day in the Leaky Lounge!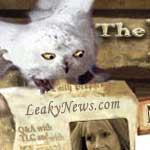 Jul 15, 2006
Uncategorized
Today is the July meet-and-greet at our forum, Leaky Lounge, and in honor of all the Las Vegas activities happening later this month, it's themed Viva Las Vegas.
The festivities start at 9 a.m. EST, when the Shrieking Shack opens up with arcade/casino games. There will be Wizard Hold'em Poker ( a scavenger hunt) at 12 p.m. EST; the Gred and Forge Filk Variety Hour and filk-writing contest; memory album; craft contest, and PotterCast fan art contest. The Corner Booth (our text chat) will also have Mad Libs, and the Chamber of Chat (our graphic chat) will have that essential Vegas location, a wedding chapel.
It looks to be a day of great fun and games for all; come by, say hi, and enjoy! To register for the Lounge, click here.