Happy Half-Blood Birthday!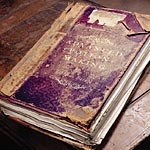 Jul 16, 2006
Uncategorized
A year ago: We were gorging on Harry Potter and the Half-Blood Prince, swallowing it as fast as our eyes could scan lines and our hands could turn pages. In my case, I was in a small hotel in Edinburgh, trying to focus on reading instead of having intermittent attacks of joy that in roughly 12 hours I'd be sitting with Ms. Rowling her-very-lovely-self, asking her about her books and getting to have the chat that had been my dream for a long time. Then, doing the next best thing: sharing it with all of you. (Including pics!)
A year from now, it may all be over – so let's take a minute to remember the awesome year it's been since Half-Blood Prince, celebrate all the very cool things to come in the next few weeks, and promise to enjoy every last bit of this incredible time.
Happy Half-Blood Birthday!