Happy Birthday, Jamie!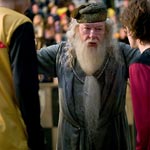 Jul 21, 2006
Posted by Melissa Anelli
Uncategorized
Today is the 17th birthday of my favorite evil Slytherin, Jamie Waylett (aka Vincent Crabbe). Jamie, we hope you have an awesome one, and we can't wait to see what horribly embarrassing thing happens to Crabbe in Order of the Phoenix!