New Interview with Actor Warwick Davis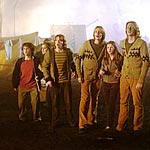 Jul 21, 2006
Uncategorized
SnitchSeeker.com let us know they have a new video interview with actor Warwick Davis. In this interview, he talks about his role as Professor Flitwick, filming for Order of the Phoenix, and his hope that Flitwick will be in all seven movies. To watch the interivew, and read the transcript, click here. Some highlights:
SS.com: Any romance on the set?

WD: I haven't noticed anything. I'm sure there are some. I'm sure some of the animals get friendly. You know, Filch's cat often likes the rat. But I think he's probably looking at it for dinner actually. He he.

SS.com: Will you be in all of the Harry Potter films?

WD: Will I be sticking around? I hope so, Goodness me! *crosses fingers* I'm hoping [Flitwick] make it through the books alive, and I'm hoping that the producers will ask me back for the movies. I'm part of the furniture now at Hogwarts, I'm part of the decoration there. Hopefully it wouldn't be the same without me popping up.
Thanks to SnitchSeeker!