Welcome, Emily and Susan, New Scribbulus Organizers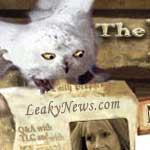 Jul 26, 2006
Uncategorized
As you heard on this week's PotterCast, we're proud (and late, but still proud) to welcome Emily Bytheway and Susan Faust to Leaky as the new organizers of Scribbulus, our essay section. These two have been writing essays – mostly on Harry Potter – for years and having them here to guide the essay project to greater heights is a thrill for us; they, along with several new additions to the wonderfully hardworking essay staff, have already been making changes that will make the section even more fun for you all. We hope you'll give them the good ol' Leaky welcome! Their bios are below:
Emily Bytheway (aka Wahlee) is a twenty-something graduate student at Brigham Young University. When not working on her thesis on J.R.R. Tolkien's The Lord of the Rings in the hopes of eventually graduating with her MA in English (British Literature emphasis), Emily enjoys knitting, watching movies, reading (especially Jane Austen, her favorite author), and, of course, feeding her obsession for all things Potter. Since entering the Harry Potter fandom in mid-2001, Emily has written a few fanfics, participated in ship debates, written a few essays, acted as a moderator at The Sugar Quill, and contributed in panels and presentations at Nimbus 2003 and Lumos 2006. She loves bringing HP into her graduate work whenever possible, and hopes someday to get her doctorate in British literature. She's very excited to be working for Leaky on the Scribbulus project.

Susan Faust is on her third career, having been an architect, a commodities price risk manager, and now a stay-at-home mom. She fell in love with the Harry Potter books in 1999 and has been an active member of the online fandom since 2002, participating in discussions at Harry Potter for Grownups, FictionAlley, the Sugar Quill, CoS Forums, Live Journal, and, of course, the Leaky Cauldron. When not on her computer, Susan enjoys reading, swimming, and spending time with her husband and two teenaged children. She lives in Houston, Texas and is an age that begins with "fo."
Welcome, guys!