PotterCast 46 Now Live!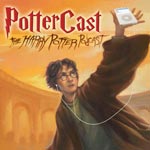 Jul 03, 2006
Uncategorized
PotterCast 46: Rowling like Bowling, is now up; remember hit "Update" on your iTunes (click here to listen):
In this show:
-The Grand High Poobah of Leaky Creation, Kevin C. Murphy, joins the trio in time for Leaky's sixth birthday
-Leaky is old enough to go to Kindergarten
-Welcome back, Melissa
-Leaky and PC shirts
-Highlights and discsussion of JKR's appearance on Richard and Judy
–The 2006 Podcast Awards! Thank you for already nominating us! Special instructions within.
-LOTS of "live or die" talk. Will Harry die? Will he just lose his powers? The continuing adventures of Neville Longbottom?
-Portraits in the wizarding world, broken down in the modcast with Jason, Lorie and Gina
-How did Dumbledore's portrait appear? How do the frames work? Can portraits offer real life experiences? Are they limited to the tag lines they had when they were alive?
-Melissa takes John to task for last week's show
-"The book's not even done!"
-"Rowling" like "bowling"
-A time when Leaky was run by men
-Still a fan, Kevin?
-"Baby Leaky"
-The internet: Littered with the corpses of failed websites
-"Little Dawlish" makes her debut, with her clean bill of health
-Melissa discusses how she came to work at Leaky
-Kevin talks about Leaky then and now
-When blogs were novel
-The Spy Kitty
-Vegas the live PotterCast: Will John sing to Jo? You decide!
The final edit of this show was completed by editor Stede Bonnett
Remember you don't need an iPod to listen; just a computer and an internet connection, which you already have! You can listen most easily on iTunes, which you can download and install here by clicking here to listen, or you can just use the streaming Flash player at PotterCast.com. You can also direct download it here, and discussion of the PotterCast is right here. We will also have a chat tomorrow on the Leaky Lounge at 12 pm EST, so log in at that time for that! Enjoy!