PotterCast Video Special: Wizard Rock in New York City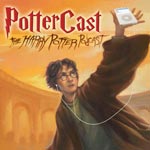 Jul 08, 2006
Uncategorized
Update: We think the probs with downloading are fixed now. Try again


Wizard rock invaded NYC this past week, and PotterCast was there to capture the action; we made a little video PotterCast special for those who couldn't take part. Download to see live concert footage of Harry and the Potters, Draco and the Malfoys and The Remus Lupins, as well as an interview with Harry and the Potters that features throughout. Watch by downloading through iTunes by clicking here, or direct downloading by clicking here (right-click and save-as). These bands just kicked off their summer tours, so check out their linked sites for more info.
And as always you can discuss all things PotterCast here at the Lounge.
Big thanks to all the boys in the bands for allowing us to tape and interview to our hearts' content, and to Harry and the Potters for being nice and goofy, and making good outtakes. Enjoy!